Virginia Boy Dies After Collapse on Football Field
Oct 31, 2013 2:48pm
A 15-year-old football player at a Virginia high school reportedly collapsed during practice on Tuesday and later died at a nearby hospital.
Jacob Vick, a New Kent High School sophomore, had reportedly suffered a recent concussion and sat out last Friday's game, according to the Daily Press, a local paper.
"On behalf of the New Kent School Board and School Community, may I offer my sincerest condolences to the family of our New Kent student," district superintendent Rick Richardson said in a statement. "We can only imagine the extent of the grief they are experiencing through this very tragic loss."
Friends and fans expressed an outpouring of grief on Twitter.
According to Vick's page on Hudl, a web-based video service for teams, he was freshman player of the year during the fall 2012 season.
School officials declined to comment further out of respect for the family.
Head injuries sustained playing football have been linked to a host of medical problems in recent years, including memory loss and degenerative brain disease. As a result, the game has come under tough scrutiny.
Last week, former quarterback Brett Favre attributed his memory loss to his 20-year NFL career, which included getting sacked 525 times. Earlier this month, New Orleans Saints' quarterback Drew Brees told reporters that he won't allow his boys to play the sport until they're in their teens.
In August, the NFL reached a settlement with 4,500 players, agreeing to pay $765 million to retired players who sued the league over head injuries.
Read more about the settlement here.
Researchers at Boston University have found evidence of a degenerative brain disease caused by concussions in 34 professional football players, nine college football players and six high school football players. Called chronic traumatic encephalopathy, or CTE, the disease is caused by repeated hits to the head. Its early stages include memory loss, and its later stages include "full blown dementia, according to in Boston University's Center for the Study of Traumatic Encephalopathy, which published the largest case series study of CTE to date. The disease can only be diagnosed after a player has died and his brain has been donated to researchers for diagnosis and further study.
Read more about CTE and players who have shown signs of it here.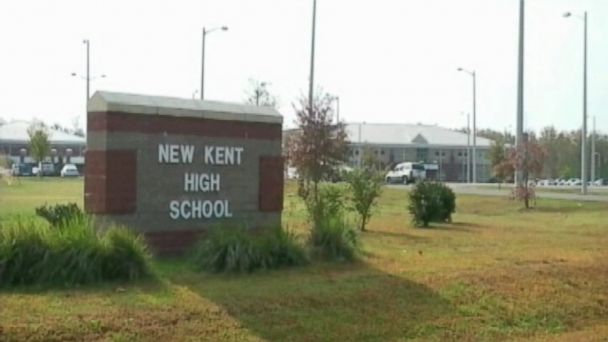 A view of New Kent High School in New Kent, Va., where sophomore linebacker Jacob Vick reportedly collapsed during football team practice. (Credit: WRIC/ABC News)