Check Out New BFFs: Meryl Streep and 50 Cent
Jan 27, 2014 11:44am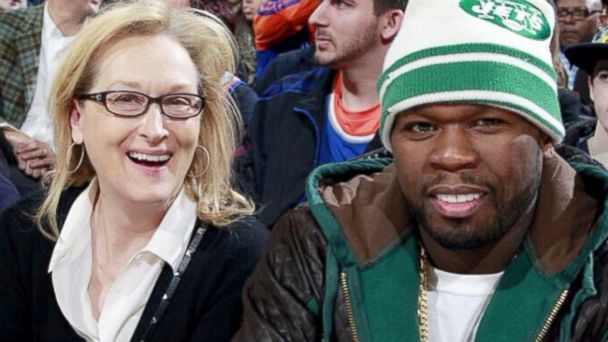 50cent/Instagram
Rapper 50 Cent may have missed the Grammys, but he got a chance instead to hang courtside at the New York Knicks game with his new best friend, Meryl Streep.
The unlikely pair were seated next to one another on the floor of Madison Square Garden as they watched the hometown Knicks defeat the Los Angeles Lakers on Sunday.
Grammy Awards 2014: Top 5 Moments
But even better for the rapper, who has tried his hand at acting, was a chance to rub elbows with the real deal, three-time Oscar winner Streep, who just snagged her 18th nomination for "August: Osage County."
Streep, who was there with her husband Don Gummer, seemed to enjoy the chance encounter. The 64-year-old actress was seen giggling and holding hands with the 38-year-old rapper, whose real name is Curtis James Jackson III.
How Emma Thompson Responded to Meryl Streep's Oscar Snub Email
After the game, the new friends posed in the locker room with Lakers star Kobe Bryant.
"Things got a little gangsta," 50 Cent captioned an Instagram photo of the three adopting a gangster pose. "Lol TURN UP, Turn Down for what!"
The trio adopted a more serious pose for a second photograph, which 50 Cent captioned, "Best ball KOBE, Best Rap 50, Best Actress Meryl Streep. TOP THAT"